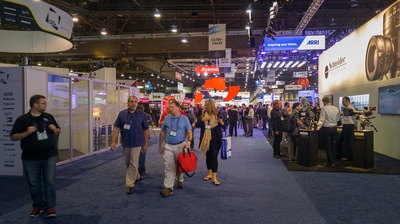 Trade shows are large industry events where businesses come together to put up displays that promote their products and services. Conferences are similar, and typically have some trade show aspect, but they're also meant to teach different aspects of the industry to professionals, as well.
Both of these types of events can have huge impacts on businesses attending and participating, but you get out of these what you put into them. This is why it's incredibly important to integrate social media into the next trade show your business attends or participates in so that you can increase the number of leads and prospects you receive throughout.
Here are a few great ways to integrate social media marketing into your attendance at a trade show to increase your overall ROI.
Before the Trade Show
1. Use the event hashtag.
In this day and age, nearly every event has a hashtag surrounding it for attendees to use when sharing content on social media. Not only is this great promotion for the event itself, but it's the perfect way to let your own audience know that you're participating and where they can find you.
Start following the event hashtag 2-4 weeks before the event even happens. Use the hashtag when posting content about how you're excited to attend/participate in the event, and use the hashtag throughout the event so other attendees can easily see your content.
2. Tease a launch before the event.
A lot of times businesses will announce a new product or service launch at a trade show. If your business plans to do the same, create videos, photos, and social media content teasing the new product or service offering well before the trade show.
Then use social media to countdown and announce your launch as well. Generate email signups through social media as well as on a list at your trade show booth. After all, double the leads is never a bad thing!
3. Create an event-specific landing page.
You can do this on your website or with a tool like Leadpages. Create a one-page website or landing page with fast facts about your business along with a sign-up form to get more information. Not only does this make it easy for people who are interested in your business but might not have time to come talk to you (there are always so many businesses and attractions at trade shows and conferences) to still sign up to learn more, but it's an easy way to share the landing page on your social media sites and have a quick URL for people who stop by your booth to go to on their mobile device and sign up for your email list instantly.
During the Trade Show
4. Share photos of your customers.
If you meet a customer, or potential customer, who is extremely excited about your business or your product/service, ask if you can take a photo of them at your booth and share it on social media alongside a testimonial or quote. People trust peer recommendations above most other things, so seeing real people on your social media with real experiences with your business is a great selling point.
It's also an exciting way to give a shout out to your loyal customers who have come to see you and your business at the trade show. Using social media in this way shows that your business is genuine and cares about your customers, helping to create a stronger bond between you and your audience.
5. Host contests and giveaways.
There are countless options for contests and campaigns you can run on social media while at the trade show. Use your imagination to see if you can come up with something that makes sense for your business, but we're going to give you a few ideas to start with.
– Hashtag Contest: Create a hashtag surrounding your business at the event, like #YourBusinessAtEvent (i.e., #AnthropologieAtVMAs, to throw out an example), and ask people who stop by your booth to share a photo on Instagram or tweet about your business at the event using that hashtag. Choose a winner of the contest at random out of all of the people who have used the hashtag.
– Pick a Name: Share a photo of your booth on social media and let event attendees know that if they stop by and write their name on a ticket, they could win a drawing contest.
– New Followers: Ask people who stop by your booth to follow you on social media and tweet you saying they followed because of the event and choose random giveaway winners from your new followers.
6. Live tweet the event.
Of course you're on social media to engage with attendees and new potential customers that you've met through the event. But you also want to engage with the people in your audience who couldn't make it. Live tweet the event and happenings surrounding the trade show or conference so that people who aren't there are also able to follow along and feel like part of the fun.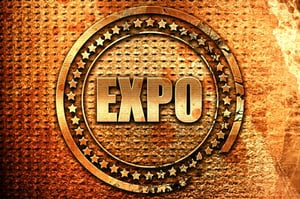 After the Trade Show
7. Go through your new leads.
There are a few different ways you can collect leads and info for potential customers at the event. Keep a bowl out for business cards, include a signup sheet, or give people a direct URL to go sign up on your landing page. Better yet, keep a tablet or two at your booth for people to automatically input their information.
After the event, you need to go through all of your new leads and manually add any that you have written down to your email list. Then, you should find them on social media. Connect with them on LinkedIn and write a personalized note about how you enjoyed meeting them at the trade show. Like their Facebook Page, follow them on Twitter and Instagram, etc.
Create meaningful relationships with these new leads so they'll turn into customers, and better yet, turn into returning customers.
Looking for more ways to leverage social media marketing for your business? Contact us and learn more about how we can help.